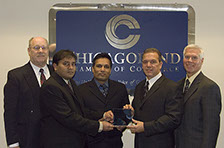 Deloitte/Chicago Chamber of Commerce Excellence Award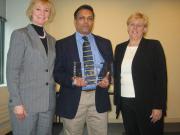 Alfred P. Sloan
Business Excellence

2016 Inc5000 Fastest Growing Company in America Winner
2006 Business Ledger
"One of the Best Places to work"
We stand ready to help
Maxil Technology is a leading provider of innovative Information Technology solutions and services. Backed by a strong and dedicated team of technology professionals with extensive domain knowledge in many verticals. Maxil today is considered to be one of America's leading information technology and knowledge process outsourcing organizations.
Maxil's competitive edge comes from combining technology competencies with its understanding of verticals, straddling a range of sectors from banking and insurance, power, mining and telecom, Financial services to education. Maxil's high quality, high value IT solutions have helped reshape businesses and delivered measurable results to our customers.
The Company's expertise is focused on Industry Solutions in five(5) core areas; Data Warehousing, Quality Assurance, Java, Applications, and Networking. These five areas of expertise, along with our Staffing Group and Offshore delivery capabilities provide our clients a wide array of applications, including real-time systems, online systems, embedded systems, process control, transaction processing, image processing, data communications, networking, parallel architectures, e-commerce technologies and database management.
With multiple offices and service locations overseas Maxil customers include some of the biggest organizations in Europe, North America and US: Bank of America, Nasdaq, Siemens, Xlre, Axa, Verizon, and Accenture to name a few.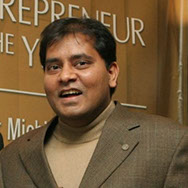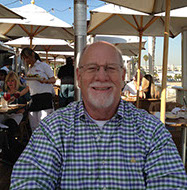 Kal Reddy
President, Founder
Working as a team allows team members to take more risks, as they have the support of the entire group to fall back on in case of failure. It emphasizes these award-winning innovators are onstage about how to develop and create new ideas that will better our world.
Raj Kosaraju
CIO, Co-founder
Our job is to make sure that we're empowering customers ... and the best way we can empower them is to provide them the digital tools that allows them to take advantage of all of our products and services anytime, anywhere that they need them.
Joe Taylor
Chief Sales Officer
Selling is the most complicated profession in the world! Where else do you have to understand organizations and individuals with such depth and clarity? Where else do you have to build rapport with so many different types of people, in so many different locations, buildings, or business types?
Sales is NOT a numbers game: Quality supersedes quantity.
Abdul Baig
Vice President, Co-founder
Team projects encourage employees to feel proud of their contributions. This has given us strong leverage in terms of our competition and value add. Great teams build each other up and strengthen individual members to create a cohesive group.
'Maxil' is a leading provider of I.T. Solutions & Services
Phone: 630-472-7335
Fax: 630-929-9733
Email: info@maxiltechnology.com